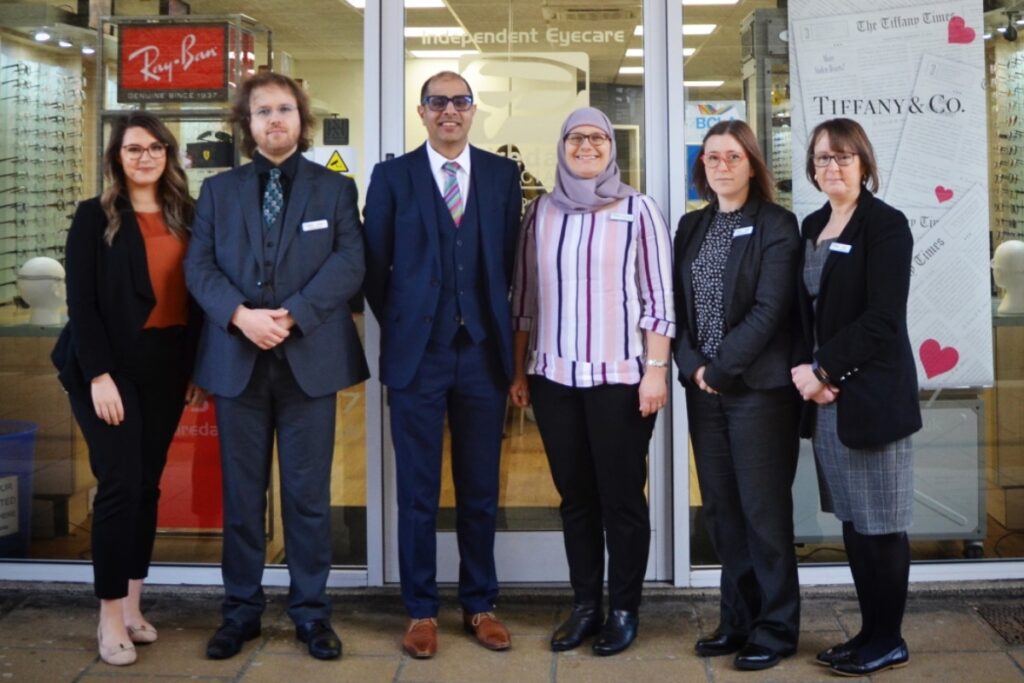 Our friendly and highly experienced team believe in building lifelong relationships with customers, getting to know you and your vision needs. Our staff have over 80 years combined optical experience in providing your eyecare.
Mohammed Hafejee B/Optom (hons), MC Optom, Dip Glaucoma.
Optometrist Owner - Qualified 1998
I am the Managing Director and Principle Optometrist at Airedale Opticians. I am passionate about providing an environment where our customers feel comfortable and get the care and advice they need. I believe in investing in the latest technology and developing skills (my own and my team!) to respond to the changing needs of my patients.
MY BACKGROUND –
I qualified as a Dispensing Optician studying at Bradford College (1995) and went on to study Contact Lenses at City and Islington in London. I continued my study in Optometry at Anglia University in Cambridge.
Since qualifying I continue to further my learning with CET/CPD (ongoing professional training and development) and attend numerous courses nationally and internationally. I have also completed the diploma in Glaucoma and MECS accredited and completed numerous WOPEC and dry eye courses.
Having worked for most of the large chain Opticians, I increasingly noticed how their business model was geared to just selling glasses. The time to provide advice, the level of equipment and continued professional development is just not possible in such an environment. Setting up Airedale Opticians and allowing the time, investing in the latest equipment and ongoing professional development (including that of my team) is now the main drivers to Airedale Opticians success.
I have also completed the College of Optometrists Pre- Reg Training course, allowing me to train students who have completed their degree to become registered Optometrists.
In my spare time I still love playing 5-a-side football (just about!) keeping fit, traveling (anywhere!), gardening, cycling and watching any sport (live or on TV!)
My areas of speciality include:
Personalised Lenses
Eye nutrition and eye health
Macula Degeneration diagnosis and management
Myopia progression management in children
Glaucoma diagnosis and monitoring
Dry eye and its management
Low vision and its management with Magnifires and Digital Technology
All types of contact lens fitting
Childrens eyecare – Including Amblyopia Management (Lazy Eye)
Sarah Jackson B/Optom(hons), MC Optom
Optometrist Owner
Qualified 2002
Consultant Optometrist Sarah Jackson qualified as an Optometrist in 2002 from Anglia University in Cambridge. Sarah has worked in a number of Glaucoma, Cataract referral and Diabetic monitoring schemes in conjunction with the local hospitals.
Sarah is able to provide MECS (Minor Eye Conditions Service) appointments. The Minor Eye Conditions Service provides assessment and treatment for people with recently occurring minor eye problems. It is a NHS service provided by accredited optometrists.

In her spare time Sarah enjoys walking, gardening reading biographies and gourmet cooking!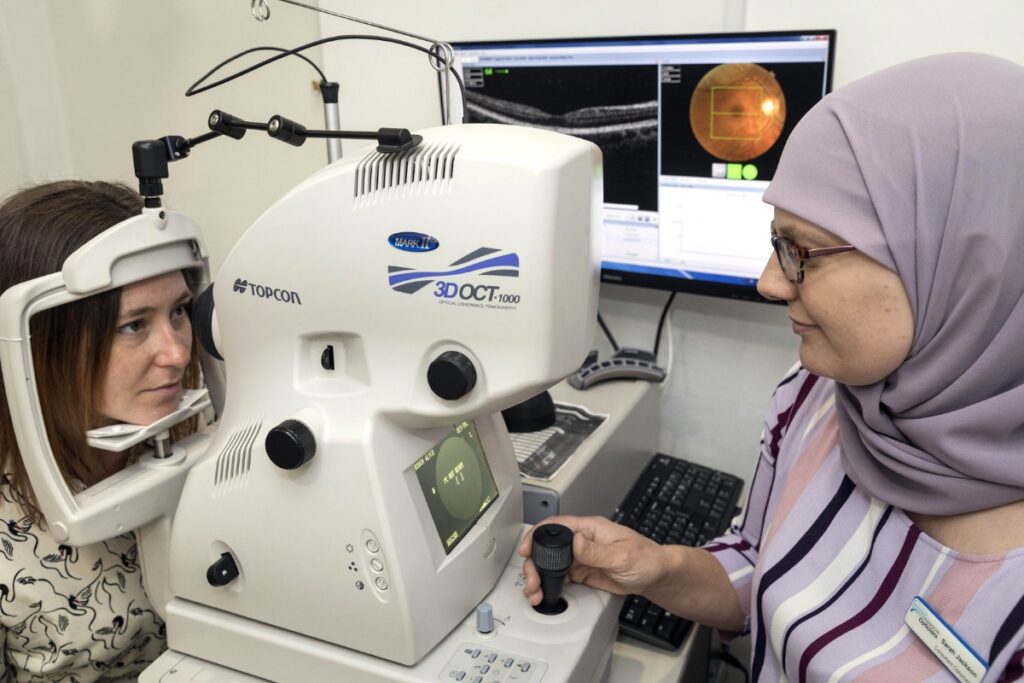 Sarah's areas of speciality include:
Glaucoma
Cataract diagnosis and management
Wet & Dry ARMD diagnosis and management
Contact lens fitting
Dry Eye Management
Diabetic Eye Screening
Eye Nutrition and Eye Health
Blepharitis Management
We are assisted by our practice team – you will see them in a wide range of tasks – from booking your appointment to completing your paperwork and performing the Pre-examination tests before your appointment. then helping you to choose your glasses and recommending lenses afterwards.

Tim and Gill are our Qualified Dispensing Opticians – they have a three year study qualification and are able to carry out additional roles and functions, including the dispensing or supervision of dispensing of children and people with visual impairment, as well as offering specialist services and advice to patients.
Angie - Manager
20+ years Practice Experience
Angie is our senior optical consultant with over twenty years of experience at the practice.
Angie has experience in all aspects of the practice, from booking a suitable appointment, to pre-screen, dispensing glasses, fitting of spectacles to contact lens queries and more.
Angie mostly enjoys helping our clients choose their glasses and is always happy to give honest advice on whether or not frames suit. Angie has loyal customer base who trust her with their frame styling at each visit!
Angie also works in our in-practice optical lab, cutting and fitting lenses, giving her a detailed knowledge of lens designs and she can advise on which lenses will work best in particular frames. In her spare time she enjoys reading thriller novels and watching films.
Gill - Dispensing Optician
Qualified 2018
Gill is a Dispensing Optician, qualifying after a three year course at Bradford College.
She particularly enjoys helping children to find the right frames to suit their needs. Her favourite frames are from the Etnia range with their bright Spanish design along with Flexon and Titanflex with their tough, flexible technology. Gill likes to discuss the different lens options available and which would be most appropriate to each patient depending on their needs, prescription and frame choice.
When she's not working, Gill likes walking, spending time with her children and a variety of crafts incuding jewellery making.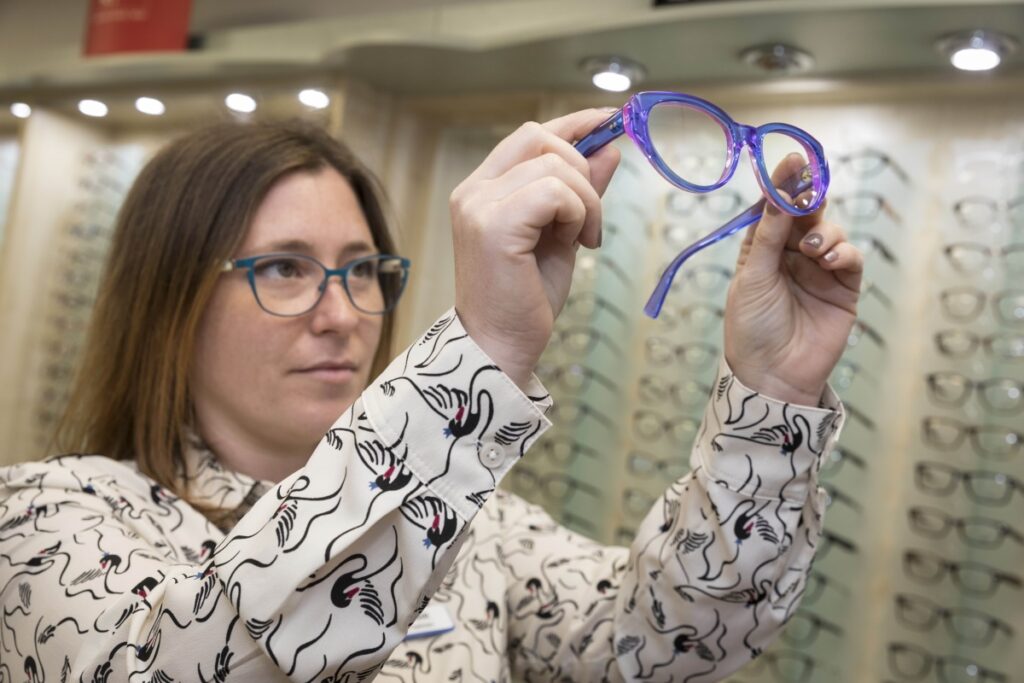 Antonio Capozio F.B.D.O - Dispensing Optician
Qualified 2007
Antonio is a qualified Dispensing Optician, with over 20 years experience in Optics.
In that time Antonio has seen almost everything to do with frames, lenses, contact lenses, solutions and more! With his expert knowledge of all the options and ability to find that perfectly fitted frame – you are in safe hands!
Sheridan - Optical Consultant
Sheridan brings her many years of retail fashion experience to Airedale Opticians. Sheridan loves styling faces and provides helpful fashion advice to those of our clients that struggle to find something that suits.
Call in now with your prescription and let her style you!
Tayyib - Graduate Optometrist
Tayyib is a newly graduated Optometrist, having recently graduated from Manchester University in 2021.
You may see Tayyib at your appointments for Eye Examinations or Contact Lens Visits. He is a very accomplished graduate – but may take a little longer with your appointments so please allow extra time during your visit with Tayyib.